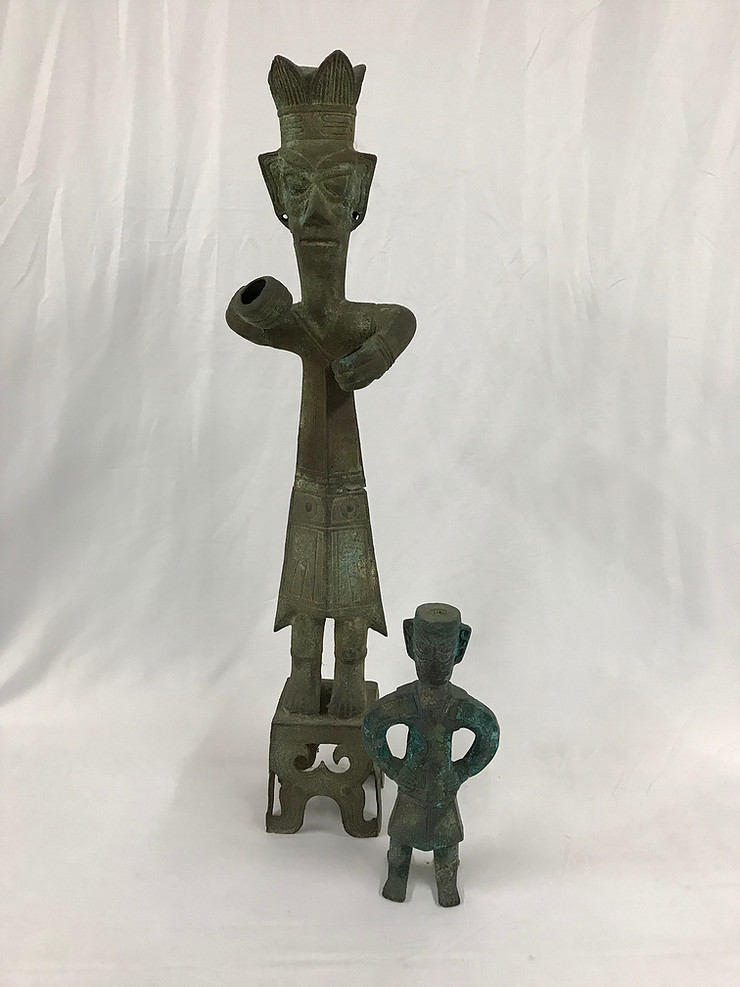 We have a pair of rare Sanxingdui figures available at our upcoming estate sale: The Estate of Ethel Rogers - Asian Art & Antiques The Sanxingdui site was discovered in 1929 and then rediscovered in 1986; the site dates to the 11th and 12th centuries BCE. It is believed their open hands held an elephant tusk. But who this culture still remains a mystery. Located in the Sichuan province of China archaeologists associate it with the Kingdom of Shu.
This ancient culture had a well-developed bronze casting culture which permitted the manufacture of many impressive articles, including the world's oldest life-size standing human statue.
Many Sanxingdui bronze faces had traces of paint smears: black on the disproportionately large eyes and eyebrows, and vermilion on the lips, nostrils, and ear holes. Vermilion is interpreted "not be coloring but something ritually offered for the head to taste, smell, and hear (or something that gave it the power to breathe, hear, and speak)."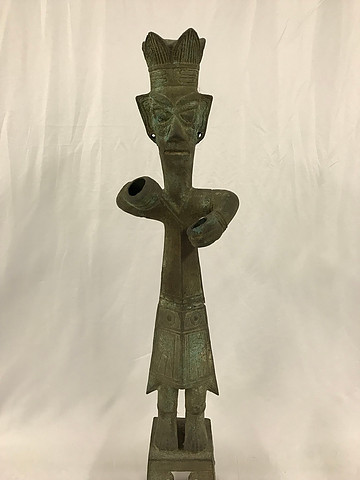 It is unclear whether they formed part of ritual events designed to communicate with the spirits of the universe or ancestral spirits.
Many theories also surround the fall of the Sanxingdui civilization, which seemingly disappeared without a trace, leaving behind objects unlike anything found in any other period of Chinese history.
Archaeologists have been left wondering what the purpose of the objects was and how such an ancient culture, at the very beginning of Chinese civilization, could be so advanced.
Some people speculate that aliens might be behind the mysterious relics after locals in the area alleged that they spotted UFOs in the area 20 years ago.
The Estate of Ethel Rogers - Asian Art & Antiques February 2nd & 3rd, 2018
10 am to 5 pm
407 N. Broadway St.
Portland, OR 97227
For more information on Sanxingdui visit Wikipedia: https://en.wikipedia.org/wiki/Sanxingdui
*Some information cited from www.china.org.cn